Welcome to our website!
This is the website for Colyn Ward and Onnie Granados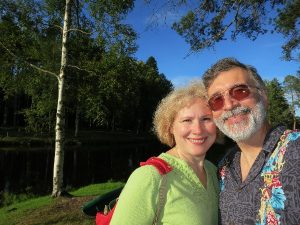 That's Colyn and Onnie in the photo on the left here, so if you were wondering if either the Colyn you're looking for or the Onnie you're looking for is either the Colyn or the Onnie you've found, now you know. But even if we don't look familiar to you, thanks for stopping by and by all means if you want to send either of us a note, feel free — scroll down the page a bit and you'll find some contact info.
Anyway, on this website, we'll attempt to keep you somewhat updated on stuff going on in our lives, if what's going on is fun to share and (we hope) entertaining for you to read. If you're into politics and/or debate and/or lively discussion about current events, you won't find that here, unless your idea of lively discussion involves good food, good friends, good travels, and good times.
And pictures! Lots and lots of pictures!
Check out our main page and see if we've updated anything in our blog to let you know what's up — if we haven't updated much, we're still out there, just busy doing stuff off-line, as it were.
If you want to contact me (Onnie) directly, you can always shoot me an email at:
onnie x granados at gmail dot com
Standard gmail address format, no spaces, you know the drill.
Or you can reach us through the Contact Form below.
Thanks!
Comments or questions are welcome.